Description
UMT Xiaomi Auth Credits are intended for servicing Xiaomi phones that require UMT server authentication.
UMT Xiaomi Auth Credits CANNOT BE REFUNDED in any case so please make sure you really need to use them.
Check our thread on the forum before doing anything with the credits.
Please indicate your UMT/UMT Pro smart card ID while placing an order.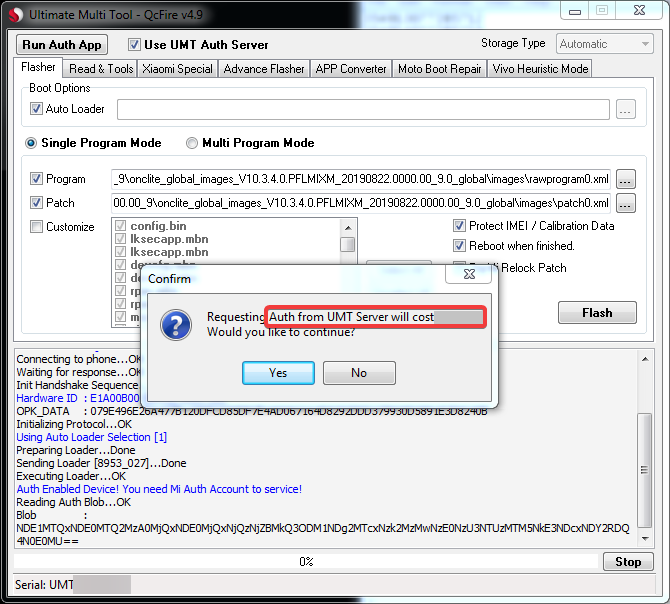 Consumption:
10 credits are charged for every successful server authentication.
Supported Features:
Read / Write Firmware
IMEI Repair in FTM/Diag + Flash Mode
Backup / Restore QCN
Backup / Reset / Restore Security (EFS)
Reset FRP (Google Factory Reset Protection)
Format UserData
Read Pattern Lock (Android < 6.0, Un-Encrypted Devices Only)
Reset Locks (PIN, Password, Pattern w/o Data Loss, Un-Encrypted Devices Only)
Enable Diag (OEM Decoding required, may not work on BL Locked Devices)
Reboot to EDL from Fastboot
Reset Mi Account for Xiaomi devices
Disable Mi Account for Xiaomi devices
Factory Reset for Xiaomi devices (sideload Mode)
Disable / Restore Locks for Encrypted Userdata
Motorola Boot Repair
Xiaomi EDL Locked Device Service
Bootloader Decoding in EDL Mode for some Xiaomi Devices
One Click Root for Qualcomm Generic Devices
Forensic Functions (Read Contacts / Messages in EDL Mode)
Save Read Contacts to vCard Format
One Click Lock Reset for Vivo Phones without USERDATA LOSS (Encrypted Userdata)
Factory Method for Format FS
EDL Authentication using Xiaomi Auth App (Service Account Required)
Xiaomi Wipe EFS in Sideload Mode
Xiaomi IMEI Repair for RSA Protected Phones
Xiaomi Boot Loader Decode
Unique Method for Vivo Reset Locks for Protected Devices
Xiaomi EDL Auth Using UMT Server
Supported Xiaomi Phones*:
Black Shark 2
Redmi 6 Pro
Redmi 7
Redmi Note 7
Redmi Note 7 Pro
Redmi Note 7S
Mi 8
Mi 8 Pro
Mi 8 SE
Mi 9
Mi 9 SE
Mi CC9
Mi CC9e
Mi Mix 3
Mi Mix 3 5G
PocoPhone F1
and more…
Note! Xiaomi Reset Mi Account doesn`t work on Android 9.0.
*Check our thread on the forum before doing anything.